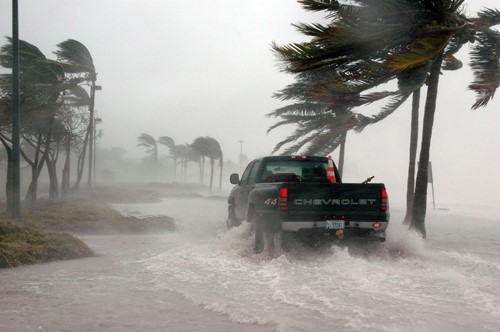 While severe storms like hurricanes can be unnerving and stressful, there are ways to prepare for these types of storms. Hurricanes are one of the few natural disasters that residents of hurricane-prone areas can prepare for. The biggest key to being thoroughly prepared is to know where to start.
While paying close attention to weather alerts and monitoring the weather conditions around you are imperative, there are a few key items to remember for these storm systems.
Here are a few key pointers for how to be prepared for a hurricane:
Storm shutters
Also known as "hurricane shutters," storm shutters are a great way to protect your home from flying debris during the high winds of a hurricane.
Shutters come in a wide variety of materials, like metal and wood, and have different design styles depending on your current location. Some may require the shutters that roll down over the windows to give a different angle of protection, while others may be able to use a standard shutter style during their hurricane season.
Regardless, investing in storm shutters is a great idea for those residing in high-impact hurricane zones.
Emergency kits
Your emergency kit may have a variety of items, such as first aid materials and temporary tents and blankets. However, an added layer of preparedness may be required for a hurricane emergency kit.
Try adding potable water tablets or water cleaning aids just in case the drinking water in your area has been contaminated. Another excellent thing to add is a hand-cranked radio so you and your household can stay on top of the weather alerts from the National Weather Service and National Hurricane Center.
Be sure to have a few glow sticks, flashlights, battery banks and possible camping supplies on hand. You may also want to pack an overnight bag with a few days worth of clothing and medication in the event of a mandatory evacuation.
Evacuation routes
Knowing your evacuation routes or whether you're in a mandatory evacuation zone can be key to hurricane safety. Keep a map of evacuation routes near you. Be sure to have a backup in case of route congestion. It's also a great idea to know where your local storm shelters are, especially if you're in a zone that will be directly and severely impacted by the storm.
Monitoring tropical storms and their progression, along with monitoring any hurricane watch provided by your local storm service, is a great first step to hurricane preparedness. If the storm is of significant danger, and you cannot leave your area, maintain accurate maps of your designated storm shelter.
Some residents may be able to ride out the hurricane when the storm hits. If that's the case, be sure to have adequate charging stations, flashlights and communication devices in the event of power outages.
Hurricanes can be nerve wracking experiences, especially for those who aren't accustomed to them. However, by following the advice of your local authorities and maintaining a few preparedness measures yourself, you'll be able to weather the storm with your household intact.